Sharing characters to the Inworld Arcade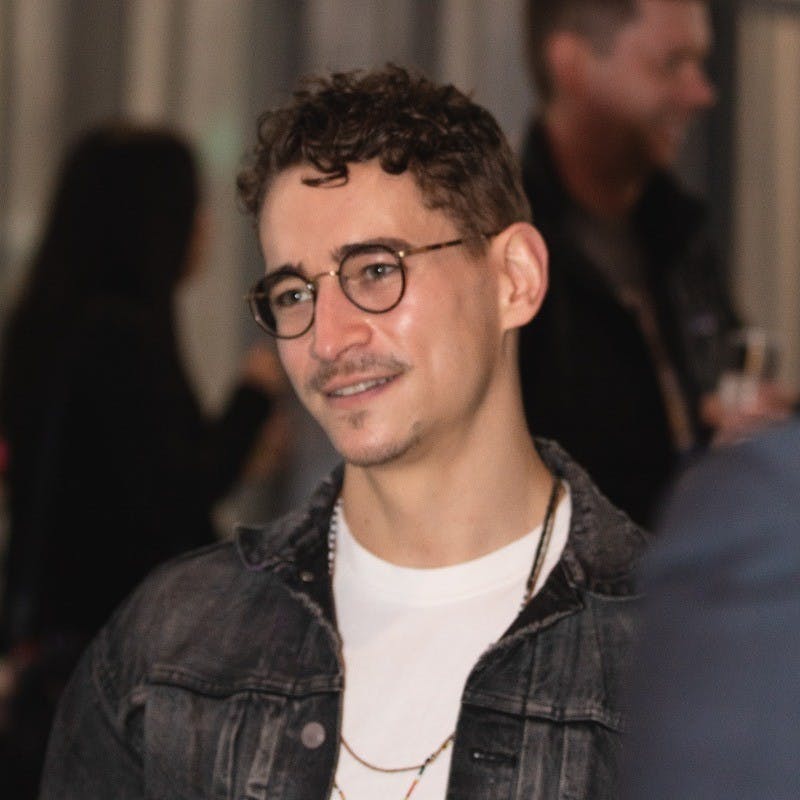 Kylan Gibbs
December 01, 2022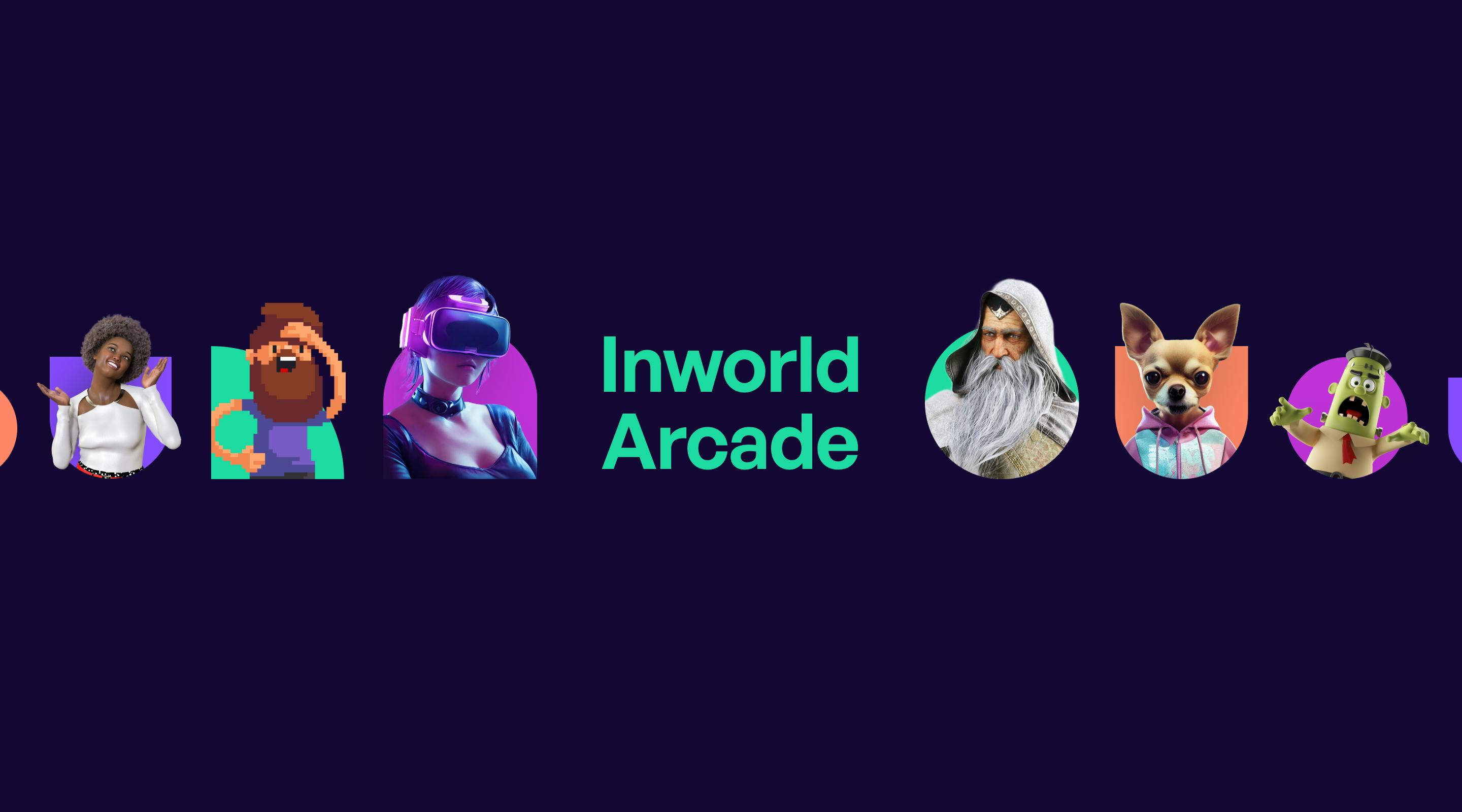 We're excited for the beta launch of two new features: the ability to share your character and the Inworld Arcade, a showcase of the best characters created and shared by our users. Share and interact with characters via text, voice chat, and our brand new avatar chat feature. If you're a Product Hunt user, check out our launch and help us trend to the front page of PH!
We want to see what characters you'll create and how people will interact with them so, while these features remain in beta, we're making interacting with characters through them free!
How sharing characters works
We know that one of the best parts of creating something is sharing it with others. Design whatever cool or wacky AI character you can imagine, test it, tweak it, and then – when your character creation is ready for prime time – share it and get a link to send to others. 
You can send the link to your best friend, your social media followers, your favorite Discord, your fans, your customers, even your hairdresser's neighbor, if they're interested. Then, watch your reluctant hero, dark wizard, brand ambassador – or whatever other kind of AI character you create – come to life and chat with your fans. 
You can even gamify your character experience with engaging narratives, challenges, or goals. Make users interacting with your AI character solve a mystery, earn the character's trust, or get them to spill about the location of a magical sword.  
It's a great way for developers to test out a new video game character,  for companies to create an interactive version of their mascot, or for makers and other creatives to build fun new experiences.  
During our beta period, users on Starter & Pro subscriptions will receive unlimited interaction time for shared characters.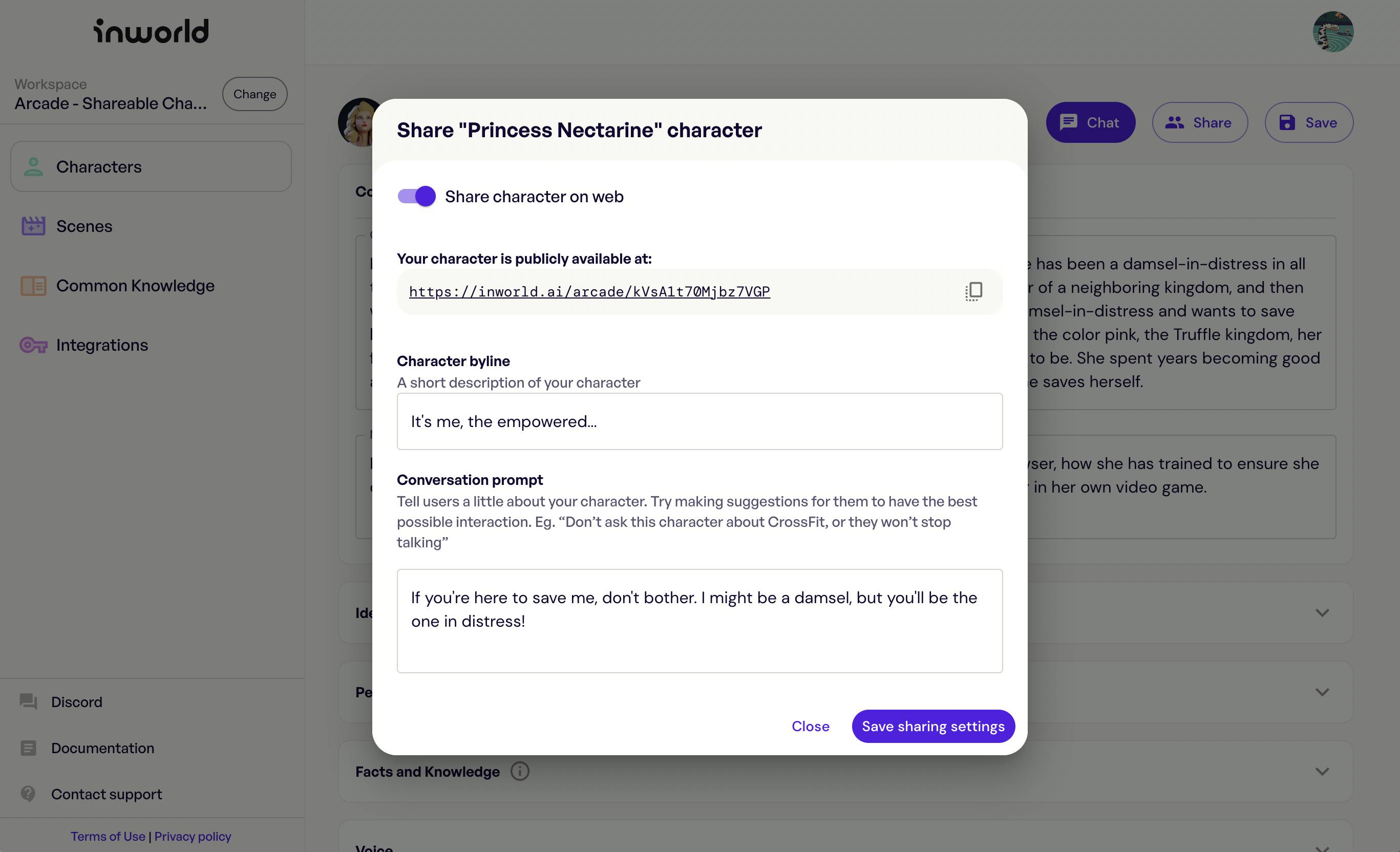 Get featured on the Inworld Arcade
The Inworld Arcade is a rotating showcase of the best characters created by our users. To be featured in the Inworld Arcade, tag your social media posts with #InworldArcade. We break the showcase down into the following categories: 
Popular characters

Video game characters 

TV and movie characters

AI robot characters
Check out how users are interacting with your characters
Sharing characters is a great way to see how the public or your fans react to your character – it's a great place for hands-on consumer research. Login to your dashboard to see how often people are interacting with your characters and what they're saying.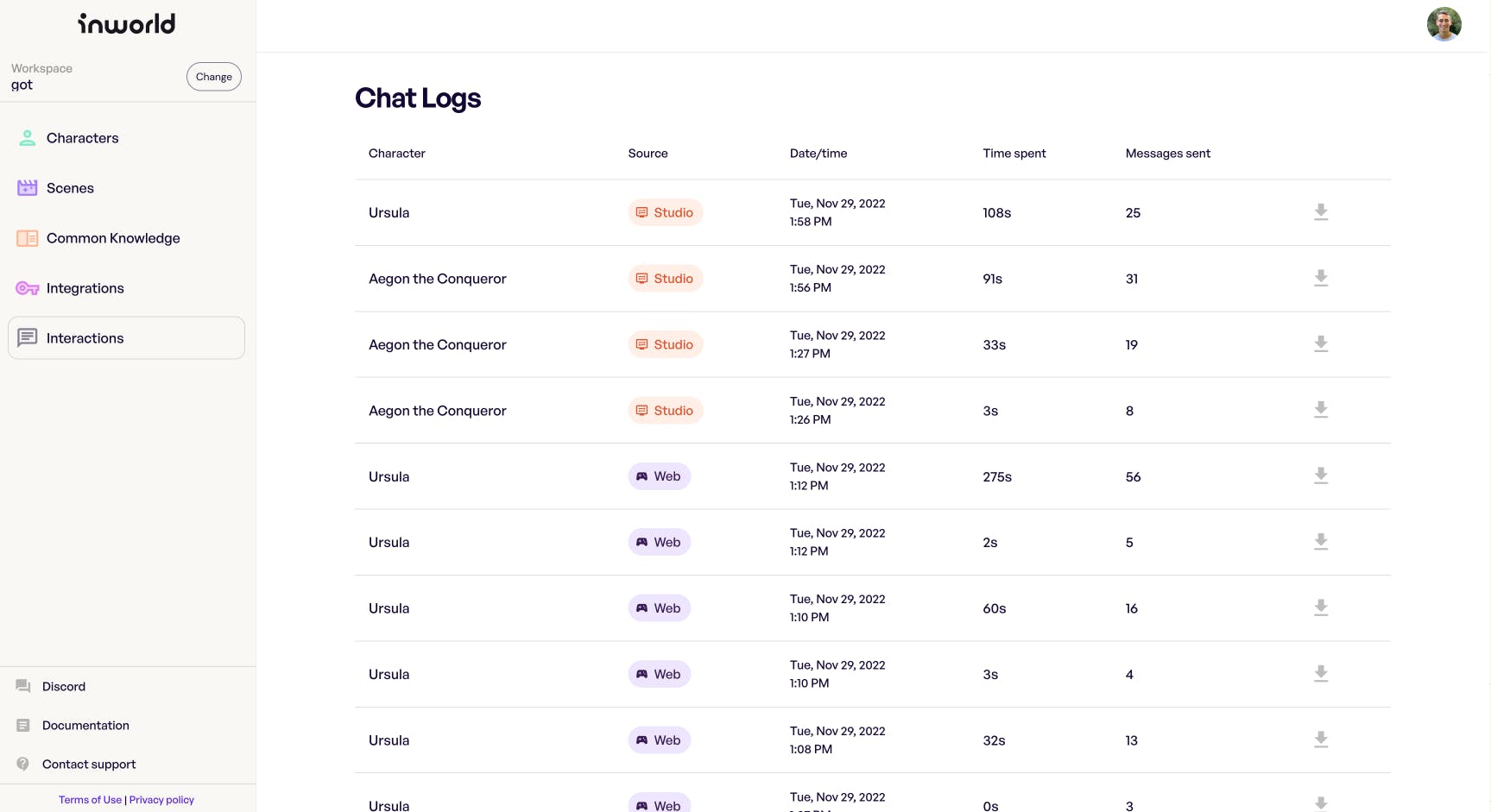 Have fun chatting with the funniest, scariest, and gunslingyist characters
Are you an Inworld fan who just wants to interact with characters? Lucky you! There are now a lot more cool characters to chat with and it is currently free to chat with characters to your heart's desire. Check out these characters: 
Inworld's commitment to safety
We want everyone to enjoy interacting with characters in the Inworld Arcade and those shared by others. We've put into place: 
Restrictions and guidelines around character creation  

Reporting and moderation

Extensive safety system and integrated guardrails

Ongoing monitoring and improvements.
We prohibit a number of different types of characters including those created for sexually explicit conversations and  characters created to promote hate speech or hateful content. that includes any characters created with the intent to discriminate on the basis of race, religion, age, gender, gender identity, disability, and sexuality. 
We also have extensive safety guardrails in place and monitor character interactions for potential safety violations.  
Learn more about our safety commitments here. 
Ready to get started? 
Learn more about how to create great characters by looking at some of our Characters of the Week posts. Then, get started in our no-code studio today!
Stay connected
Get the latest updates, events, and offers from Inworld.